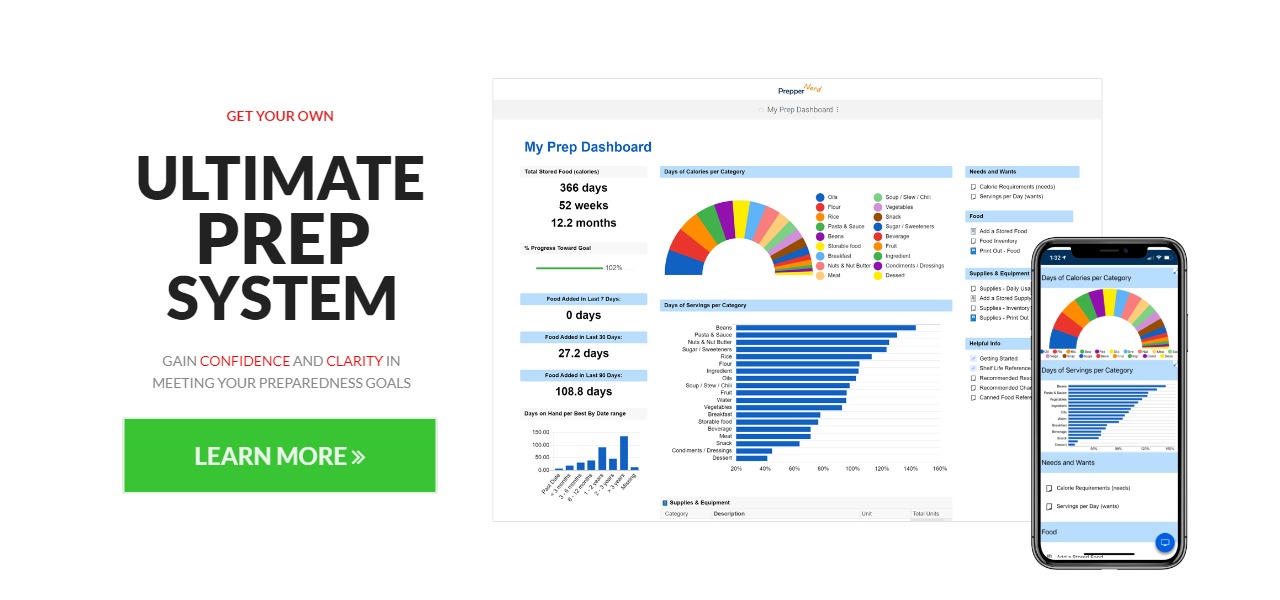 PREP
ULTIMATE
SYSTEM
GET YOUR OWN
GAIN
CONFIDENCE
AND
CLARITY
IN
MEETING YOUR PREPAREDNESS GOALS
LEARN MORE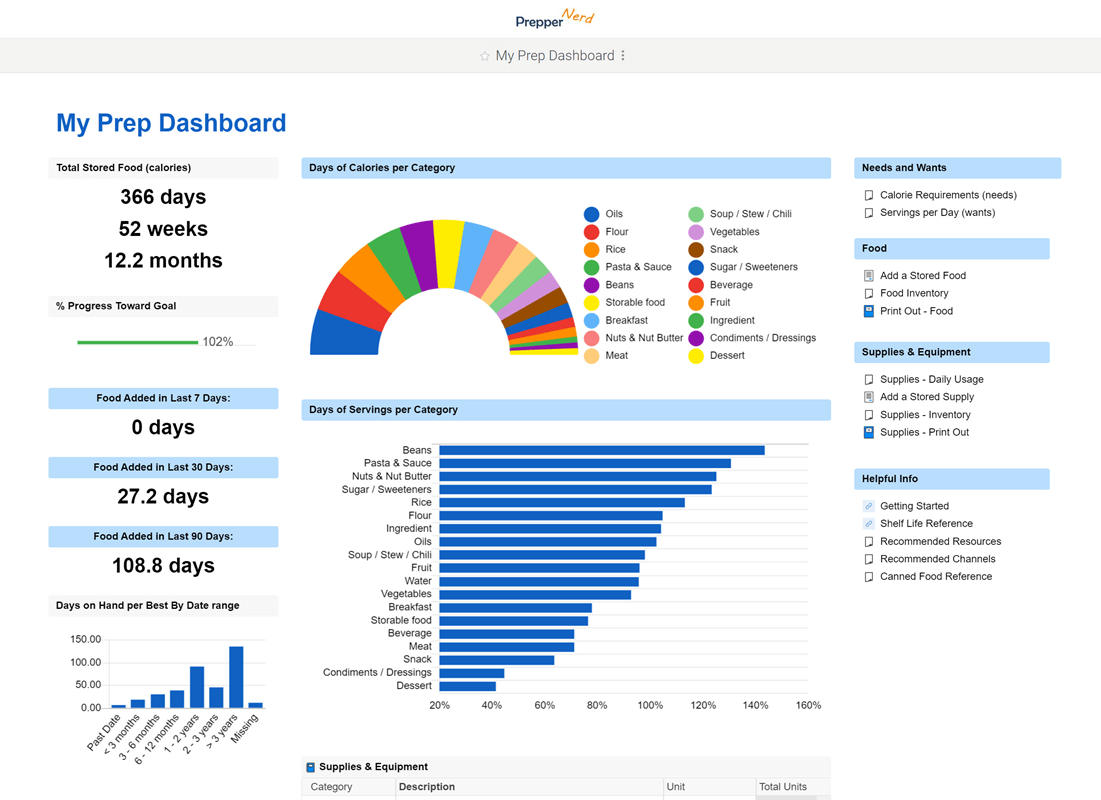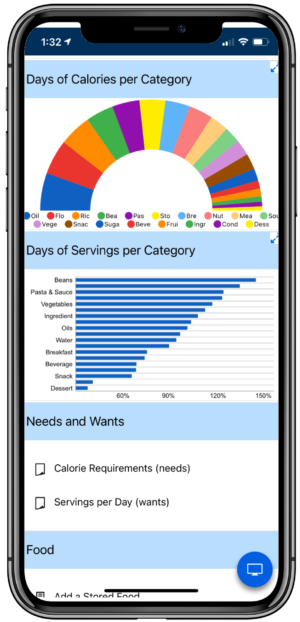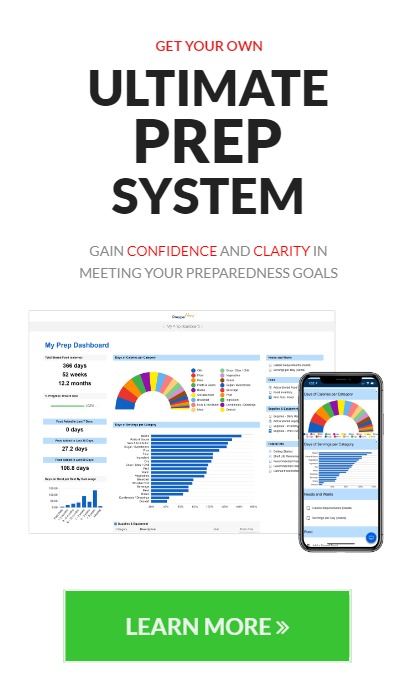 ULTIMATE
PREP
SYSTEM
GET YOUR OWN
GAIN
CONFIDENCE
AND
CLARITY
IN
MEETING YOUR PREPAREDNESS GOALS
LEARN MORE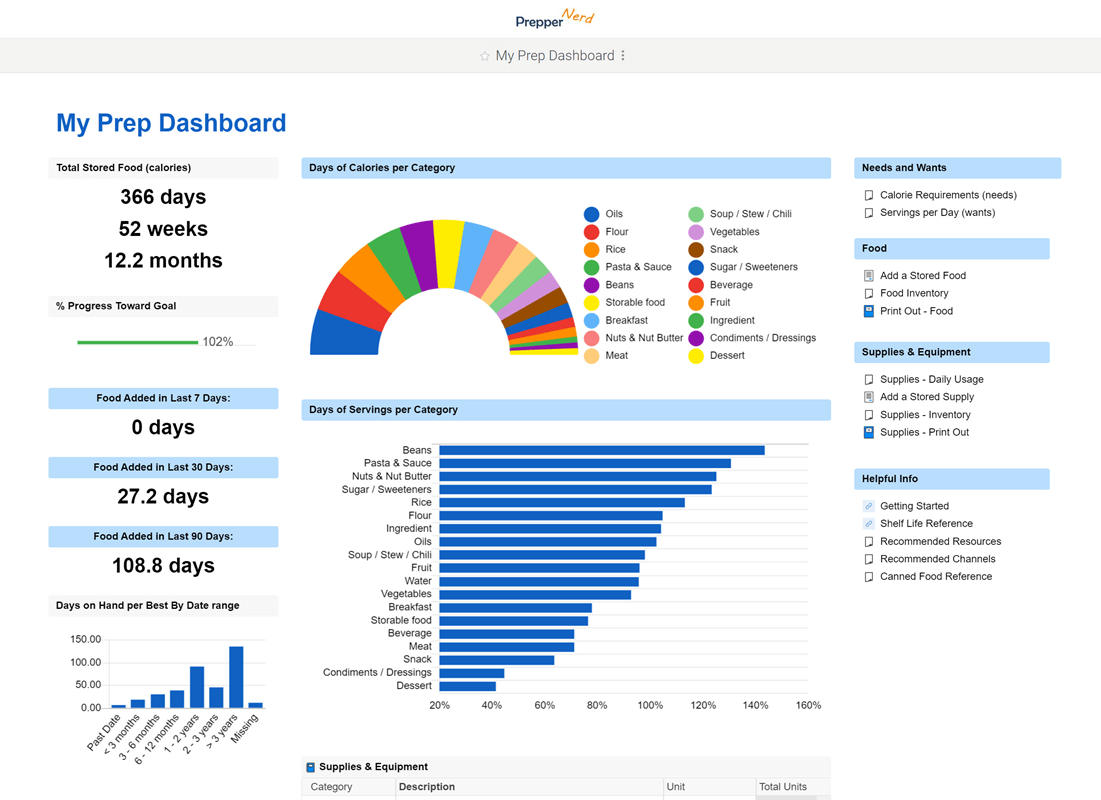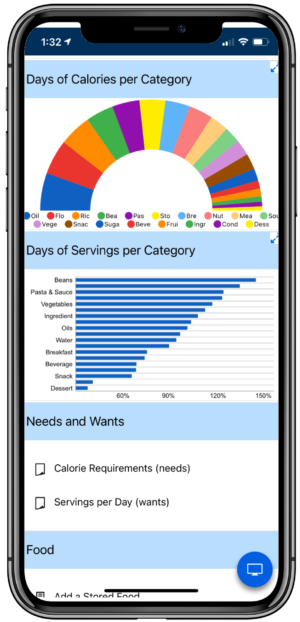 SUPPORTED BY OR AS SEEN ON
Why Do YOU Prep?
There are many reasons to prep, but it can be confusing and stressful. Until you get organized!
Feature Overview
A 2-minute walkthrough of some key features of the system
Udemy Teacher
Udemy teacher w/ 15,000+ students shares his views of the system
I am a truck driver. Finally I was able to [make time to] start using the inventory sheet from my laptop. Was really easy to get the hang of it.
I think your system is awesome and you could easily sell it $100 and it would be a good price.
I for one appreciate this program so very much and have shared with some of my family!
I actually really love this software!
Just started fiddling with it and it is an awesome program!
I love the dashboard! It's already been valuable to record expiration dates for regular meal planning.
Your system is already working to make sure I don't let things expire.
Thanks again for such a great tool and really affordable too.

While I had what I thought was a good inventory, some of the categories I am very heavy. A good example of this is sugar and flour. I have an over abundance of both but light in vegetables. Your system highlights this brilliantly.
I love that I can get a handle on my preps. Know where my holes are, and be able to get the items that I am behind on. Knowing how much and how long I have these stores for is awesome.

It is also great for my home location and my other location. Knowing what I have where is so helpful.

I am a list maker, and this system has streamlined everything in one quick and easy spot for me.  Taking lists and notebook to the stores can be stressful when you have little time.

Having the app on my phone has also helped. Even when at the grocery store, I can pull it up and check my stores and see what I need later and what I need now.  This makes it a lot easier and less stressful.

I think everyone should check out this system and just start adding in a few items and you will see how helpful it truly is.
Thank you so much… so far everything's going well and pretty easy to use and happy with the results by the way

I started adding items this morning. It's definitely a slow go hand jamming the information, but WOW, it is worth it seeing the pie chart and bar graph.
I love this system. I am no longer guessing at how much my family has stored. It has taken some pressure off of my heart. Thanks Mike!
This is amazing!!!! I love it!!
This database is helping me feel organized and prepared.
The dash board is genius! I'm going to love using this!
I love being able to look at my dashboard and know what areas I'm lacking in my preps so I can buy more of those items the next time I go shopping.
So far I'm pretty stoked as I can now see and analyze my preps – really focus on what's missing and work on balance vs quantity.
I am loving the system. I knew I had food set aside but not sure how much.
First, I'm really loving this system. Finally I have an inventory that I can access on my computer and on my phone. For me this is a game changer.
Your program is just awesome
Finally I found exactly what I was looking for! I absolutely love how simple it is to use and the barcode reader is a great tool. I told my mother about this system and she uses it and loves it also.
The dashboard is great. I am very pleased with this app.
I am so excited about it and loving it :)
What you have created is powerful and needed. For me, your system made something that felt so daunting way more manageable. Bless you.
So far I am enjoying the system very much.
I appreciate this software greatly. Have already shared your idea and youtube videos with folks in my Church.

This is actually a great program for our Food Pantry Program.
Yes I have gotten started adding my inventory!!! So far so good!
I love this system u have set up and I've found it to be easy to use and navigate even tho I'm not tech savvy
The system ensures that you can easily figure and plan your needs. It's intuitive and follows both how long your supplies will last, but you are also able to have the calories needed calculated by entering in just basic information.  Glad I invested!
I love the system. I really can not find anything I would change. I like that I can make it as simple or detailed as I want. I also like where I can look at where all my calories are coming from. Where I need work This system is very nice. Its one thing to look at your food and see holes but to also see it in a graph. It helps a lot.
Seeing that opening screen (dashboard) develop is encouraging.

Thanks for a helpful [tool], in terms of both the knowledge of my preps and a growing peace of mind.
I think it is great.  I can now see where my low inventories (weaknesses) are.  I can see where my oldest food stores are and use them in a timely matter.
Very impressed… Super easy to use and the automatic feedback it generates is amazing. Just enter in a few of your preps and it tells you just how many days of food you have!
It has already proven valuable as I was taking inventory yesterday and entering my food, I realized i was really lacking on fruit. So made sure that was on my list when I went shopping today.
I love seeing the numbers go up [for the food that] I have stored away for my preps. So far this has been great.
This has given me peace of mind. I will be working this week on entering all of our Prepper supplies in the inventory. This will be of great benefit since I am going to categorize them by heat, light, etc.

Thanks for creating a great product!
I absolutely love my Prep Inventory System.  It's fun to see the days/weeks grow and also very encouraging.

For a fairly new prepper, this is a big help.  Prepping can be very overwhelming, but this makes things easier to manage.
Very easy to understand and navigate
The dashboard is great… it provides multiple ways to show progress and direction.
I am so geeking out right now about this. I had set up my list on a google spreadsheet previously, just so I could see what was on hand and BBD. Your system shows so much more information. I am loving it so far. Will take a while to get all of the food and supplies entered but so excited about it.
My husband recently asked me if I was going to give him a roadmap to where all the extra food is located in our house.  Fortunately, thanks to your efforts, I could tell him that I can share the inventory with him!
I like to look at the chart and see how much of what I have. It's a very valuable tool that we all should use.
I have a coworker who has been prepping for over 10 years. I showed her the system and she is very interested in the system.
So far love what I'm seeing in the app. You've done a great job and looks like you really care about your customers.
I really like what you have done with food prep. It seems ideal, and I cannot think of anything else it needs.
I started entering the minute I got your program.  I absolutely love it! I have so much to enter yet, but it is helping me find the holes [in my preps].
Thanks so much for this wonderful service.
I believe the program is going to be just what I need. I really love the best by date entry and item location.

I have been doing this for so long now I know there are a lot of things I have forgotten about in my preps. I will now have a fast and easy way to know what I have and where it is.

I believe [this program is] a must have for Prepper's!!
Thank you again for your hard work and I love the product.